Alternative Provision (AP) provides support and education to students who have faced exclusion from traditional schools, are at risk of such exclusion, or need an alternative educational approach for various reasons. These students include those with social, emotional, and mental health challenges, as well as those who have experienced adverse childhood experiences that have hindered their ability to thrive in conventional school settings.
The quality assurance of AP has been investigated, but little is known about the consistency of quality measurements across settings. Our latest report sheds light on the intricacies of AP and the breadth of metrics used by providers for quality assurance.
The findings underscored the commitment of educational institutions to holistic student development. It is not just about grades; it is about understanding students' literacy levels, classroom engagement, and emotional well-being. The emphasis on multifaceted metrics highlights the dedication to nurturing every aspect of a student's growth.
Education is not confined to classrooms; it extends to post-education pathways. The survey results highlighted a keen interest in tracking students' journeys beyond school gates. It is about ensuring that students continue to thrive, be it in higher education, employment, or training. Tracking NEET rates and disseminating an annual post-16 destinations survey emerged as key methods of tracking pupil progress after leaving the setting. These results reaffirmed that the educational journey does not end at graduation.

The survey findings emphasised the pivotal role of communication between alternative provision settings and mainstream schools. Effective progress reports, meetings, and information sharing are the bricks in the bridge connecting these two crucial aspects of education.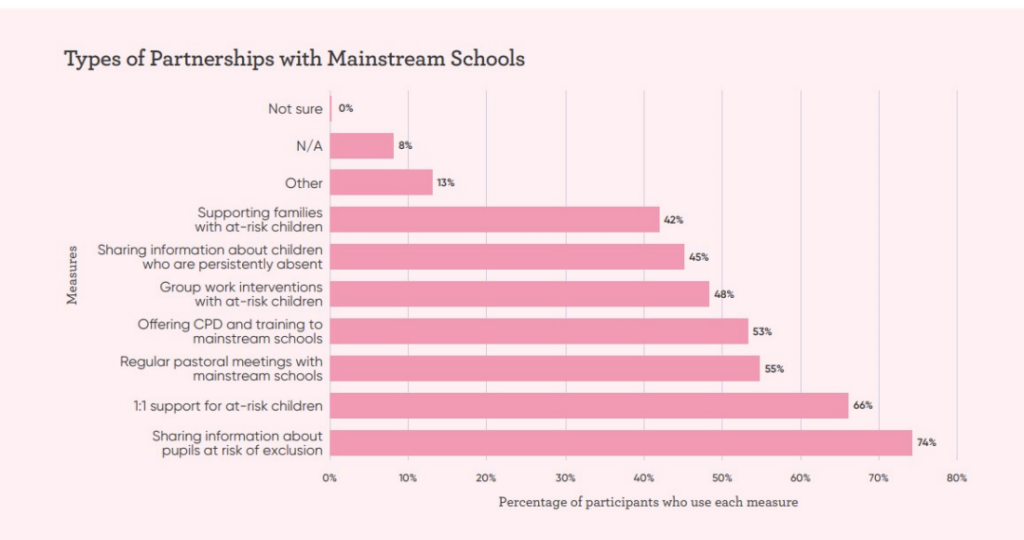 The survey shed light on the need for personalised support for SEND students within AP. It is about ensuring that every student's unique needs are met. This finding resonates deeply with the ongoing commitment to fostering inclusive environments.
Leaving school is a significant step, and the survey highlighted the importance of making this transition as smooth as possible. Personalised transition plans and continued support beyond departure are essential components of this journey. It is about ensuring that students do not just graduate; they transition successfully into their next phase of life.

The survey findings are not just data points; they are the building blocks of ongoing work in the AP policy space. They provide the insights needed to refine policies, develop evidence-based initiatives, and enhance the quality of alternative provision. It is a mission that is far from over.
In conclusion, this report offers a glimpse into the types of metrics utilised by providers. In the ever-evolving world of education, policies must adapt to meet the changing needs of students. The next step in this ongoing work is to assess how providers use quality metrics to inform provision. The report findings are to help providers, policymakers, and parents better understand the breadth of quality measurements across the sector.
Read the full report here: https://www.integrated.org.uk/2023/10/30/alternative-provision-quality-metricsestablishing-a-baseline-for-good-practice/