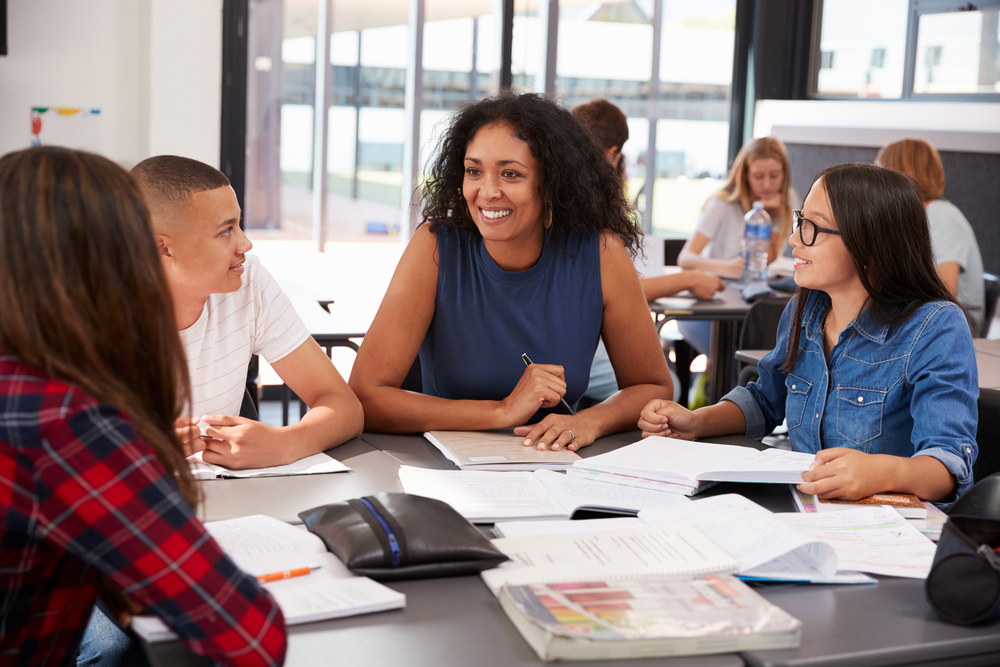 Year 11 presents a cliff-edge for many pupils who have been excluded from school. For almost half of Year 11 pupils in alternative provision (AP) schools, finishing their GCSEs and leaving school means falling out of work and education altogether. This is not entirely unsurprising.
AP schools are funded differently from mainstream schools to work with pupils with complex needs. The average cost of a placement in AP is £18,000. In contrast, post-16 placements are funded at just £4,188, leaving new providers with less resource to support these pupils in the next stage of their educational journey.
These pupils are some of the country's most vulnerable children- disproportionately living in extreme poverty, often coming from chaotic home lives and at risk of criminal and sexual exploitation.
As youth unemployment looks set to rise and fears of gang exploitation swell under lockdown, the government is right to turn its attention to this year's Year 11s, specifically those pupils who finished key stage 4 in AP.
We need a credible plan to support these pupils progress into the next phase of their education and beyond.
Understanding the pupils in AP
We wanted to understand what exactly pupils in AP need to be able to sustain a positive destination and so, to explore these issues, two IntegratED partners, the CSJ and the Difference, commissioned a survey of APs in the week commencing 15 June.
We received responses from 83 headteachers and MAT CEOs, representing a total of 86 APs, of which 78 were state-maintained alternative providers. This represents a quarter of all state-maintained alternative provision schools with provision for year 11s.
APs who responded to our surveys reported having a total of 2,810 pupils in year 11 currently on roll. Our respondents estimated that, even with the additional Transition Grant already announced by the government, at least a quarter would end up NEET next year.
These pupils are also particularly vulnerable. An estimated 35 per cent are vulnerable to criminal or sexual exploitation and an estimated 29 per cent have serious mental health conditions.
Current transition support for pupils post-16
We know from our visits and talks with AP schools that the nature of post-16 support is variable across the country. This was confirmed in our survey. Of our respondents, nearly three quarters reported already offering their pupils post-16 support, however the nature of this support varied from provider to provider.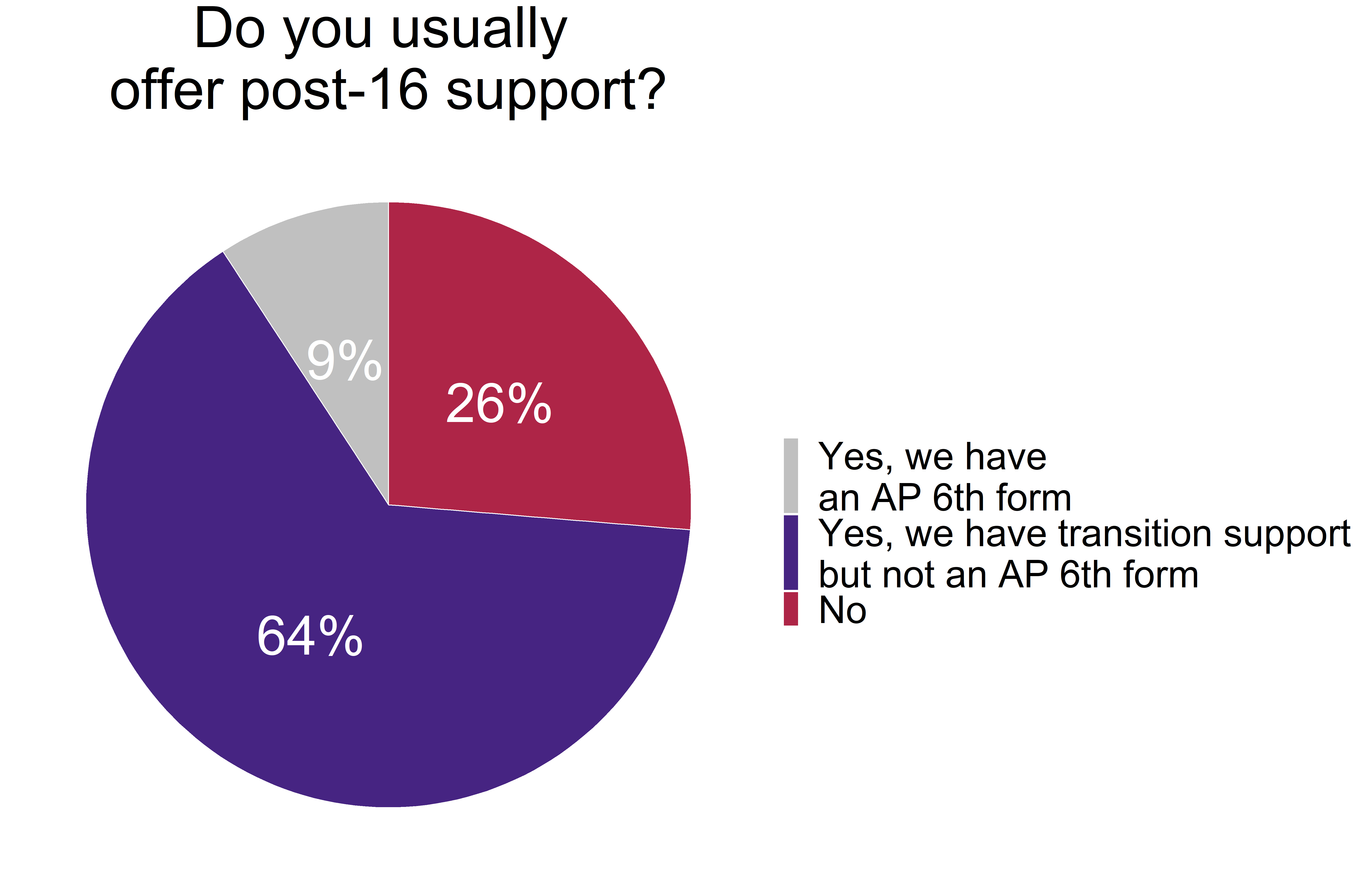 The majority of respondents had some form of post-16 support for pupils. However, one in four respondents said that they did not have any post-16 support in place.
Eight percent of our respondents reported having an AP sixth form on site and 66 per cent reported having some other form of transition support. The different types of transition support ranged from college visits and career days to raise the aspirations of their pupils to having individual transition plans and application support for all pupils.
When we asked how this support was funded, the vast majority (77 per cent) stated that they did not receive any additional funding and relied upon the money they received for their pre-16 provision.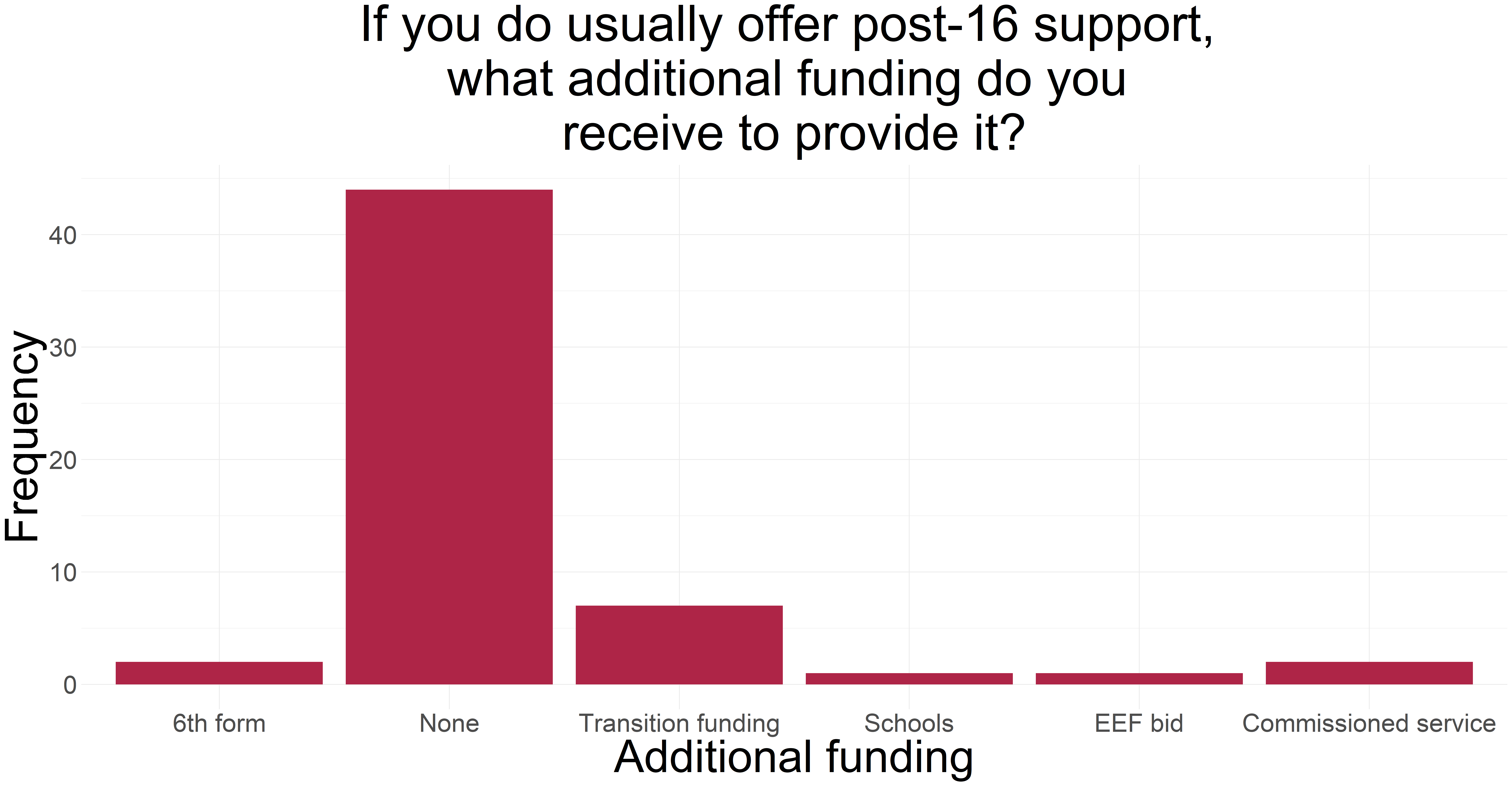 Many commented that to offer support for pupils who had left their provision, they relied upon staff good-will and volunteering. Very few received additional transition funding.
The Transition Grant/Support for pupils after Covid-19
Recognising the specific pressures that coronavirus has put on AP schools, who are supporting a cohort of pupils most acutely affected by the virus, on 4 June the Department for Education announced a Transition Grant. This equated to £750 per pupil (£375 per dual-registered pupil) to pay for support specifically to help students leaving AP transition successfully into education or training in post-16 settings.
Our survey asked alternative providers if this transition grant was something they could use and the type of support that they intend to use the funding for. Nine in ten providers said that they could use this Transition Grant, with just two percent saying that they could not.
To understand where this additional fund will be used, we asked providers how they planned to spend this additional funding. The majority (56 respondents) said that they would use this money as additional investment for their existing post-16 support. However, there were a wide range of other uses cited which included: a new transition coach (37 respondents); commissioning external support (32 respondents); on-site support (43 respondents) and other types of support (23 respondents).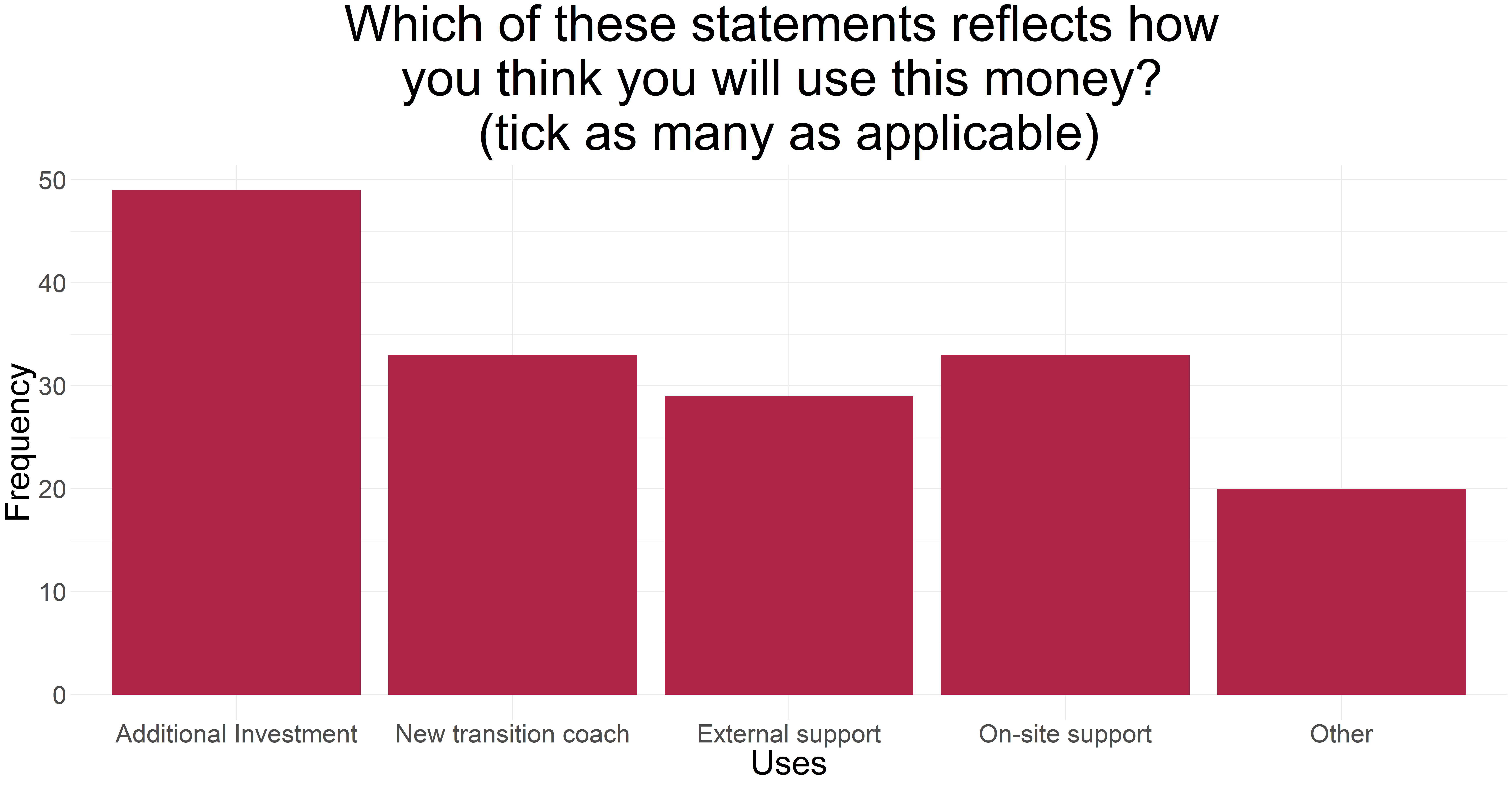 These alternatives included mental health and therapeutic support and summer support for pupils in year 11.
Whilst APs said that this one-off fund is welcome, over half of all respondents (45 in total) stated that they would struggle to make full use of the fund. The most common reason
for struggling to use the fund was that it would not be enough to reasonably
cover the supported needed for pupils (17 respondents, just over a third of all
who cited any impediments).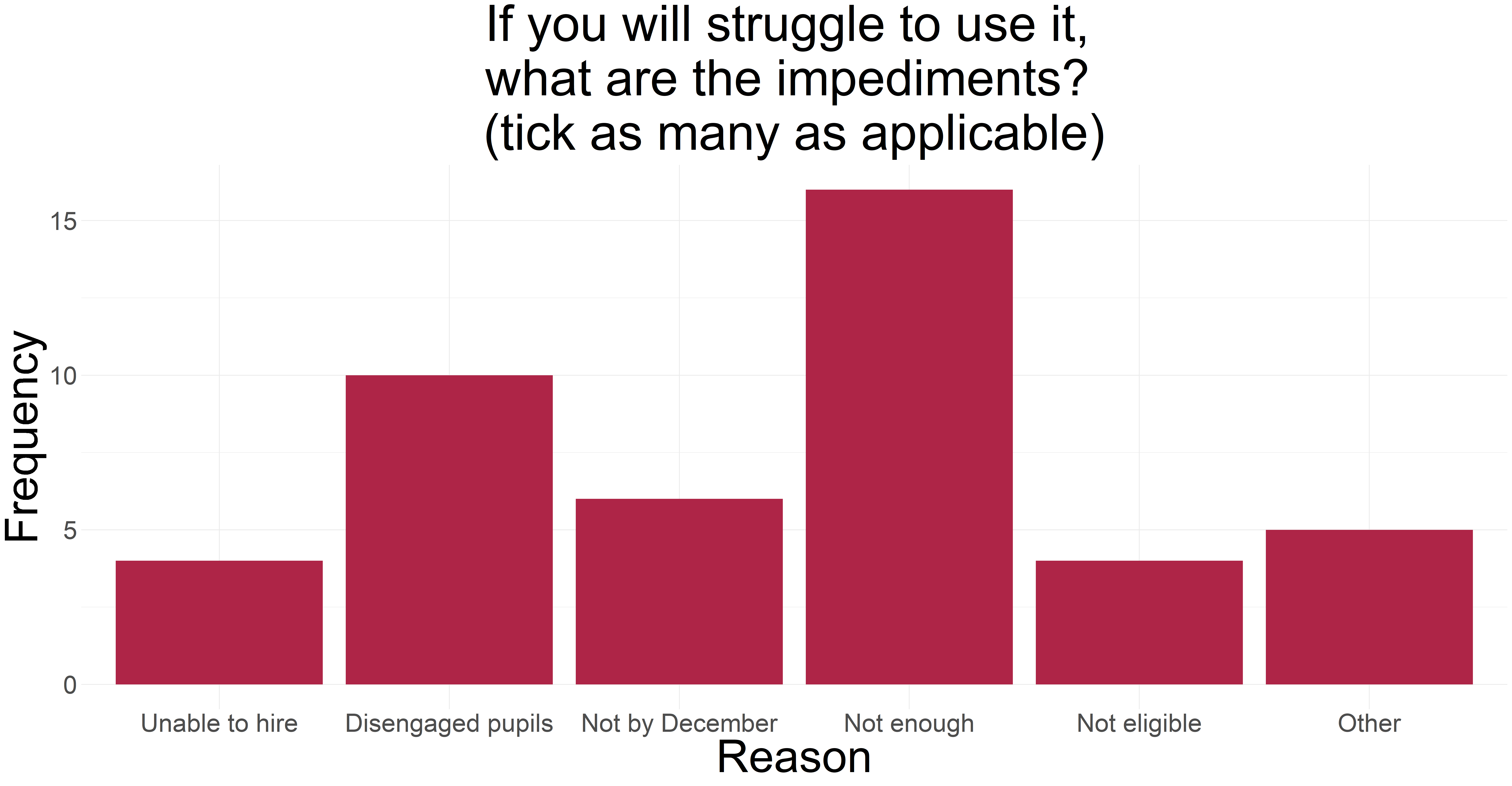 Two AP schools stated that they had already pitched ideas to the Department for Education that had been rejected, despite not clearly being disallowed in the guidance surrounding the Transition Fund.
Allowing the current cohort to stay on and resit the year
One potential extraordinary measure that could be adopted by the government, in response to Covid-19, is to allow AP schools to take back their current year 11 pupils to resit the year and gain their qualifications.
There is clear appetite for this in the sector, according to the results of our survey. 76 per cent of all respondents said that they would be willing and able to keep on pupils currently in year 11 for an additional year to sit their GCSEs or level 2 qualifications. However, it should be noted that this comprises 56 per cent of respondents who believed there would be demand and 20 per cent of respondents who believed pupils would not engage with them.
Only 24 per cent of our respondents said that they would not be willing and able to keep pupils for an additional year.
Those that said that they would be willing, able and would see demand to keep year 11 pupils on for an additional year estimated that 40 per cent of all pupils currently in year 11 would return for an additional year.
Post-16 AP
However, beyond Covid-19, there is a wider case for allowing APs to offer specialist post-16 sixth forms. We know that at present 52 secondary state-maintained APs (17 per cent of the total) are currently registered to offer 16-19 education but there are many more providers who would be willing to offer a sixth form if funded to do so.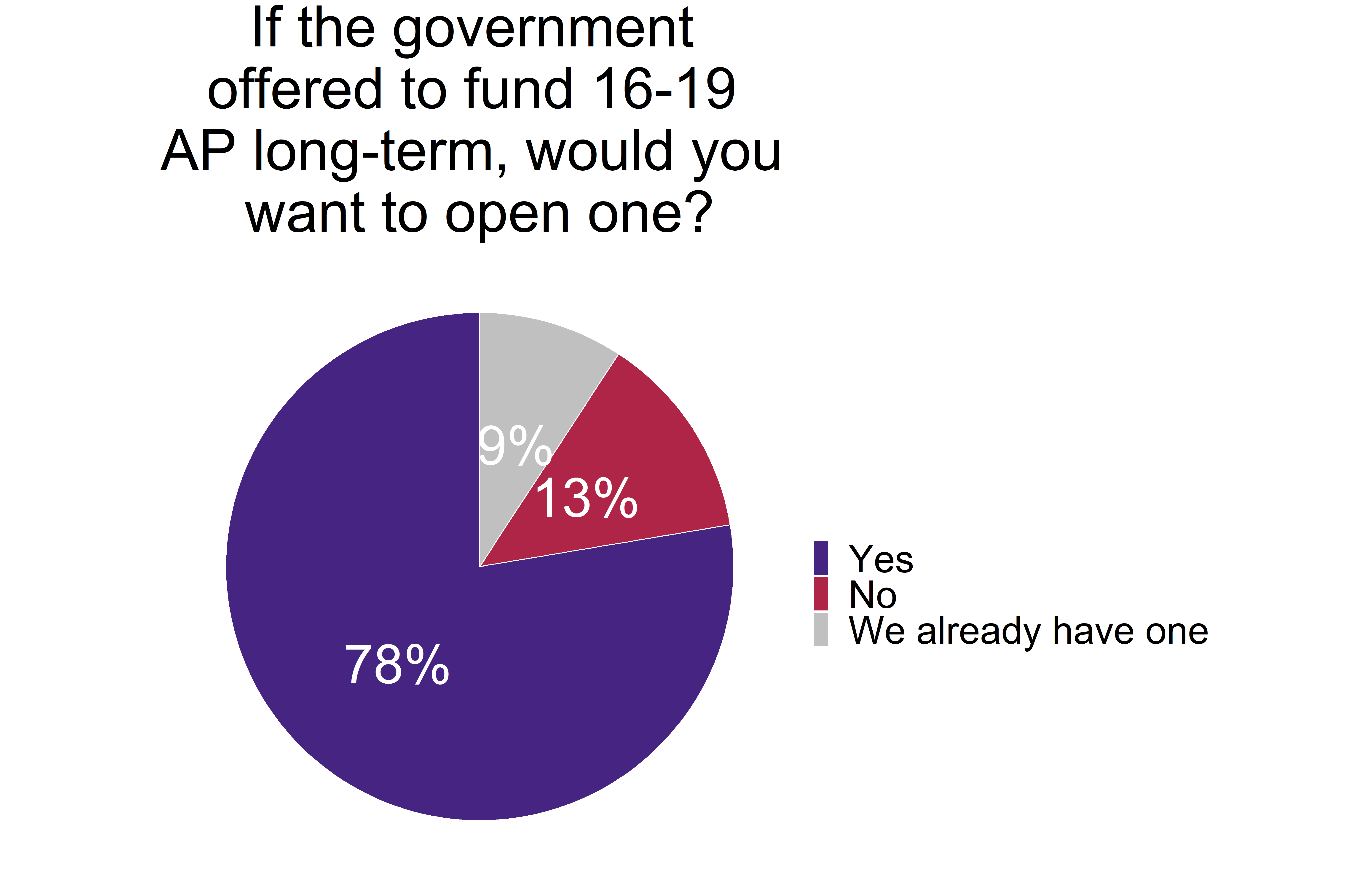 79 per cent of respondents said that if the government offered to fund 16-19 AP long-term, they would want to open one. Of our respondents, a further eight per cent said that they already had 16-19 AP and so only 13 per cent of respondents said that they would not want to open 16-19 AP long-term, if funded to do so.
If we exclude those respondents who already have a sixth form, this equates to nine in ten providers who would be willing to open an AP long-term, if funded to do so. These providers estimate that around half of their current year 11s would want to come back and sit sixth form with them, if able to do so. Interestingly, this broadly equates with the current proportion of pupils who are NEET after finishing KS4 in AP.
Interestingly, the reasons for not wanting to open a sixth form AP did not centre on issues relating to demand, only one provider cited this as a concern. Of those who listed reasons for not wanting to open an AP sixth form, the majority (10 respondents and nine respondents respectively) cited issues such as the need for buildings or more space as the main impediment.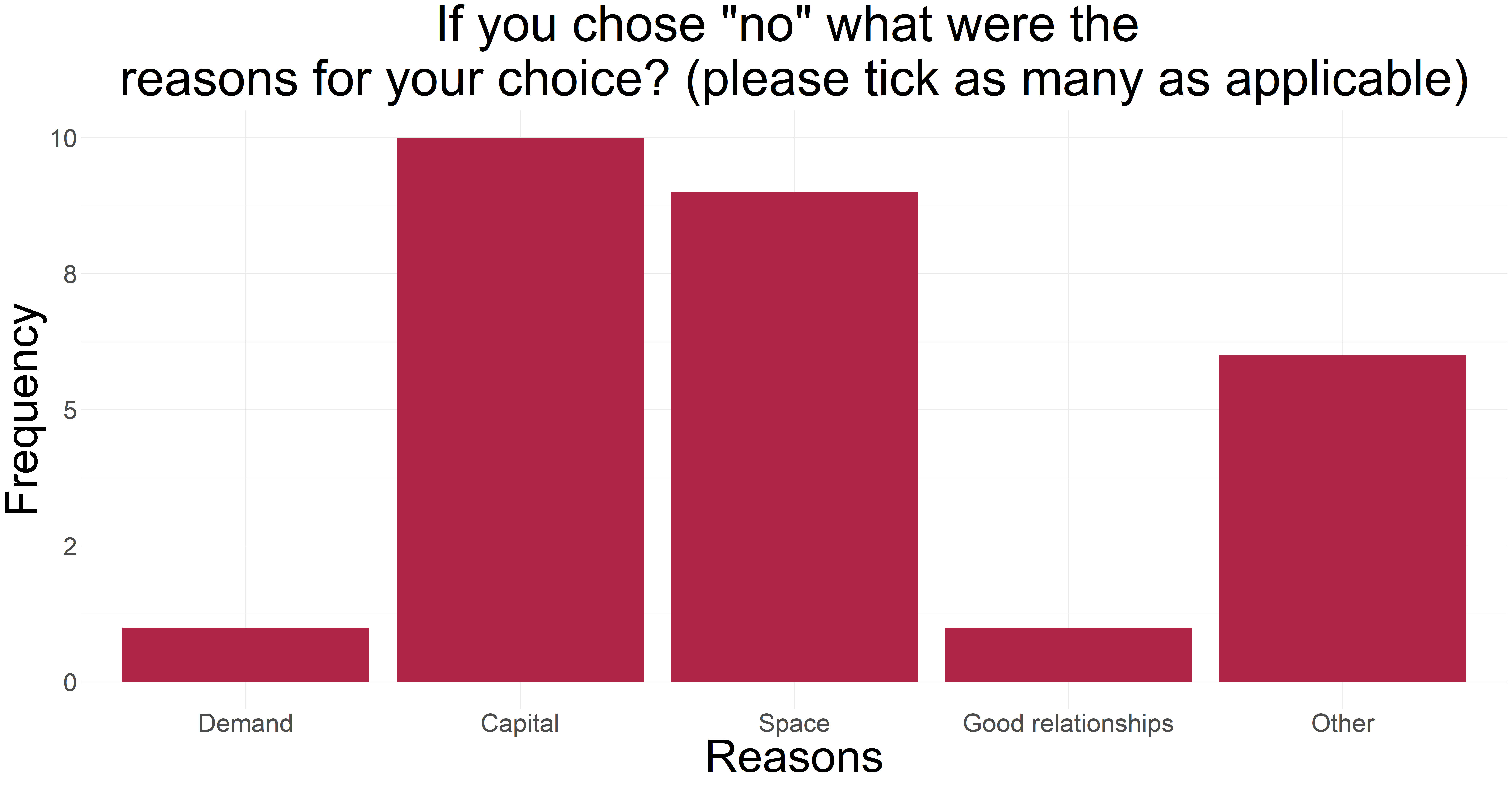 The full survey results can be accessed on the Centre for Social Justice website.